Freelance guitarist, producer, songwriter.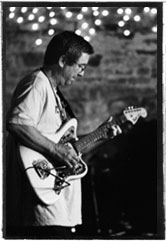 Toured with John Fullbright, Jimmy LaFave, Ray Wylie Hubbard, and played dates with other songwriters as well. Artists I have backed include Joel Rafael, Eliza Gilkyson, Smokey and the Mirror, Michael Fracasso, Bob Livingston, Audrey Auld, Susan Herndon, Don Conoscenti, Monica Taylor, Mary Reynolds, Red Dirt Rangers, Bob Childers, Greg Jacobs, Ellis Paul, Camille Harp, Wanda Jackson, Iain Matthews, Sandy Rogers, Susan Cowsill and many others. I also lead the house band at the Woody Guthrie Folk Festival in Okemah OK, where I've backed numerous artist including David Amram, Ronny Elliott, Sam Baker, Rob McNurlin, Susan Gibson, Betty Soo, Nancy Apple, Kris Delmhorst, Emily Kaitz. And there is The Shambles.
News
Piddlin' Around
Piddlin'Around is exclusively on Bandcamp!
Unadorned mixes of original compositions, or ditties if you please.
It will always be a work in progress and I'll add songs that fit in the project as they come.
Digital-Only Release!
"Under the Moons of Rimnoflub" original soundtrack by Lavin Edwards jr.
Produced by Terry Buffalo Ware
Album credits
Plain as Day Dark as Night
HOT OF THE PRESS! New Terry Buffalo Ware and Gregg Standridge and all The Sunday Flyers! Mixed and Mastered by Roy Dickinson. Everyone involved on this little project did it for free. So every red cent of your purchase will go to Black Lives Matter or another like minded organization. Special thanks to Bob French, Michael McCarty, Mark McCarty, T.Z. Wright Roy Dickinson and Miranda Arana. Please share away!
Plain as Day Dark as Night