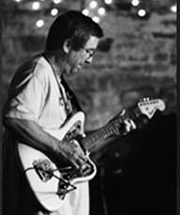 Freelance guitarist (2000-present) backing artists including John Fullbright, Ray Wylie Hubbard, Michael Fracasso, Bob Livingston, Audrey Auld, Susan Herndon, Don Conoscenti, Monica Taylor, Mary Reynolds, Red Dirt Rangers, Bob Childers, Greg Jacobs, Ellis Paul, Camille Harp, Iain Matthews, Sandy Rogers, and many others.
Live Dates

with John Fullbright

Dec. 4, Poor David's Pub, Dallas TX
Dec. 5, Live Oak Music Hall & Lounge, Fort Worth TX
Dec. 6, Continental Club, Austin TX
Dec. 7, UniTunes Coffehouse, Houston TX
Dec. 8, Dosey Does, The Woodlands TX
Dec. 20-21, The Blue Door, Oklahoma City OK




with Susan Herndon

Nov. 29, Othello's Norman OK

with The Sisters of Swing



Dec. 15, 2:30 pm and 7:30 pm, Performing Arts Studio, Norman Depot, Norman OK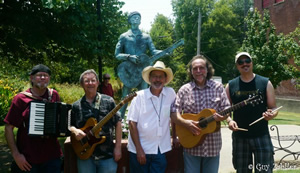 Woody Guthrie Folk Festival house band leader - performed at every festival since it began in 1998; has led the house band and served as master of ceremonies for the Hoot for Huntingtons since 2003. House band for 2013 was Dan Duggin, Terry Ware, T.Z. Wright, Don Morris, and Giovanni Carnuccio III.
Terry Buffalo Ware and the Shambles - Instrumental rock/surf/r&b/okie twang music featuring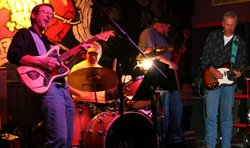 many of my original compositions as well as covers by The Ventures, Los Straitjackets, Booker T and Frank Zappa among others. We've got reverb and we're not afraid to use it. The Shambles are Bob French, guitar and mandolin, Dennis Borycki, keyboards, Marlin Butcher, bass, Ray VanHooser, drums. Guest Shambles have included Gregg Standridge, guitar, T.Z. Wright, keyboards and accordian, Susan Hyde Holmes, bass, Mike McCarty, Drums, Dan Duggin, keyboards and accordian, and Dean Brown, drums.
Guitar teacher - McMichael Music in Norman 2004-13.
Guitarist - Ray Wylie Hubbard (1972-1979 and 1986-1997); Sensational Shoes (1979-1986); Jimmy LaFave (1997-2000).